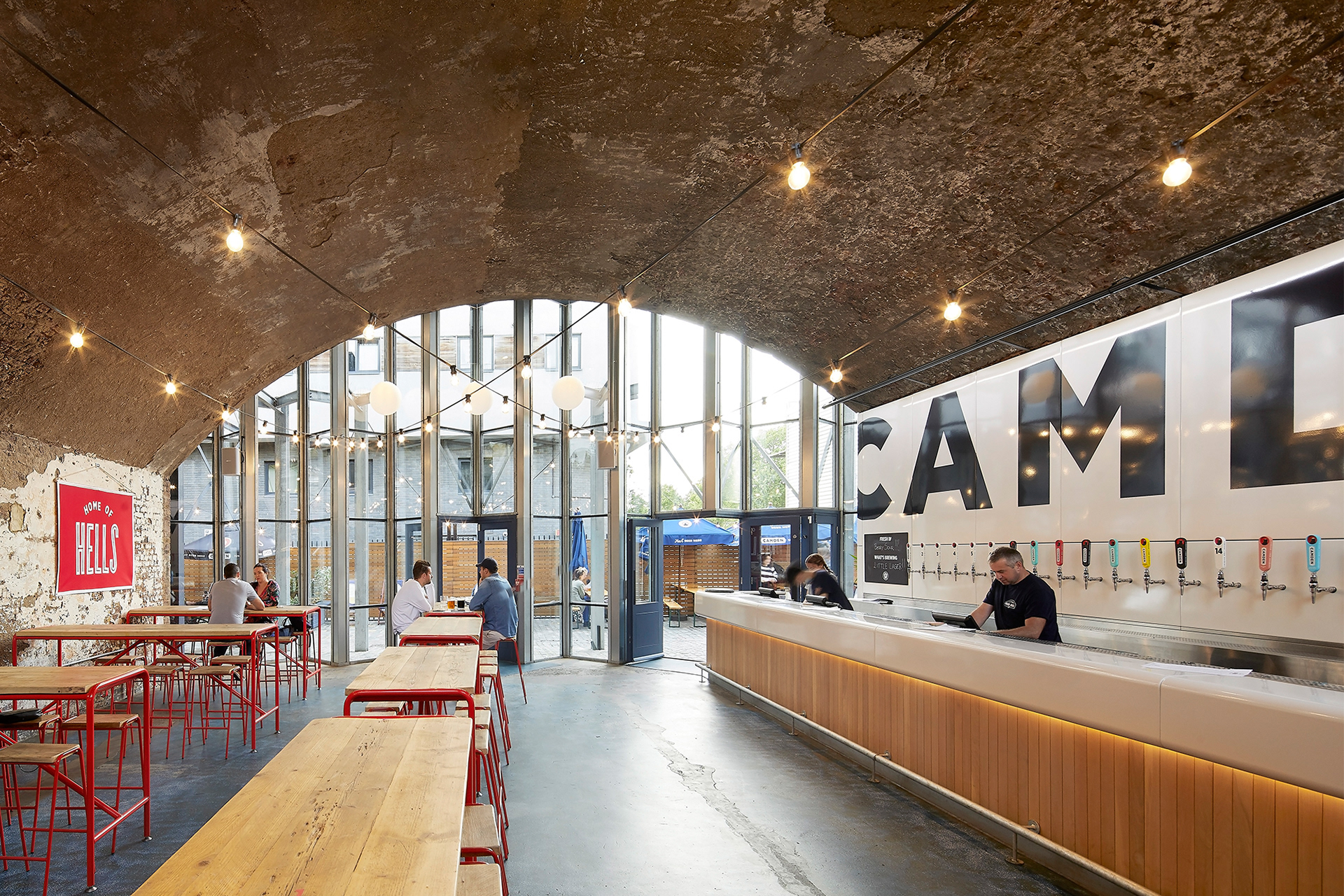 Located in a Mews that was the original home of the brewery.

The Brief was to make a home for Camden Brewery, a place where beer could be enjoyed, tours of the brewery culminate, merchandise purchased, and meetings held. Our approach was to connect two railway arches by constructing a new façade set forward of the arches, formed from galvanised steel and glass. The façade was concertinaed to allow oblique views and circulation into the space from the narrow mews. The bar is arranged with an open front counter. The back bar is dedicated to a super-graphics sign with beer taps fed from the brewery directly to the glass-fronted cellar adjacent. This scheme forms part of an ongoing project with the brewery. 
Galvanised steelwork was a clear choice for the project given its context. The site is comprised of galvanised steel, cobbles and brickwork of the Victorian viaduct and its mews, which over the years has become populated with the shiny stainless paraphernalia of Camden Town's Brewery. These two sets of materials together describe the brand well and was therefore important to our design. 
One of the limitations we had to work with was the need to ensure our development did not structurally impact the brick viaduct, it was essential our structure did not apply significant loads, horizontal or vertically to the brick structure. To achieve this, our façade needed to be externally braced, placing its structure on the outside of the building and making its corrosion resistance of paramount importance. Hot dip galvanising was a natural choice, combining excellent corrosion resistance and site durability.

Hot-dipped galvanised steel was chosen as the primary material for our design because of its suitability both practically and aesthetically. Practically hot-dipped galvanised steel addressed the inherent issues of corrosion resistance resulting from placing the structure outside the building envelope. Aesthetically it usefully placed our additions with the existing light industrial / Railway structures, expanding on their typology.


Photographs © Hufton & Crow