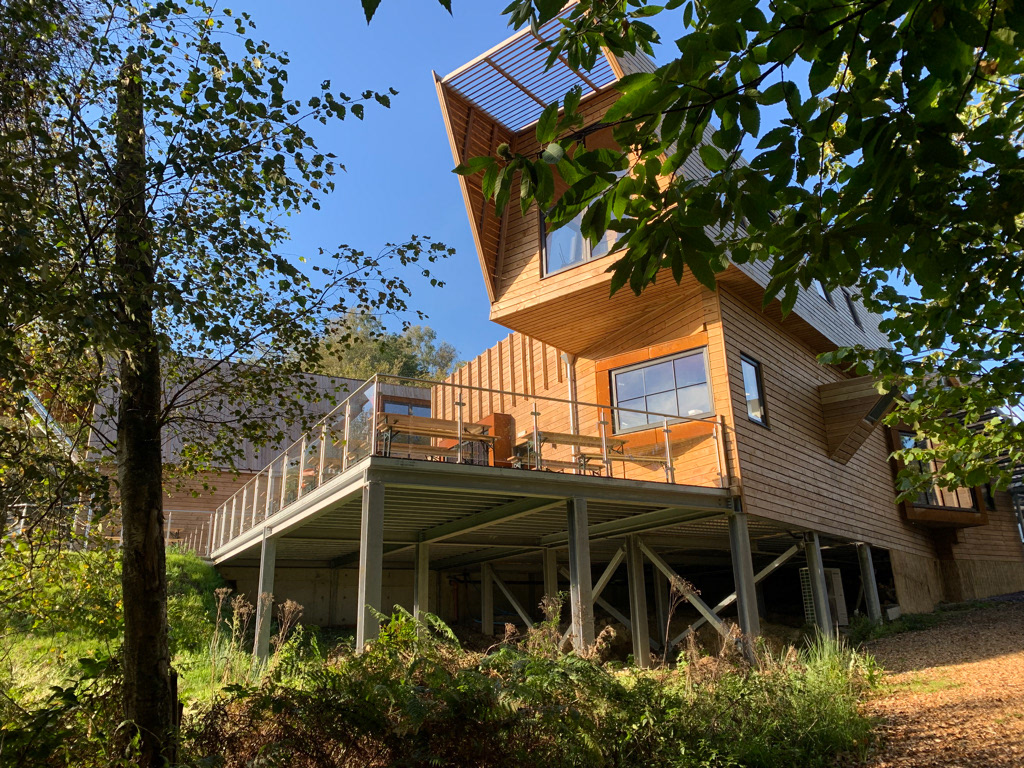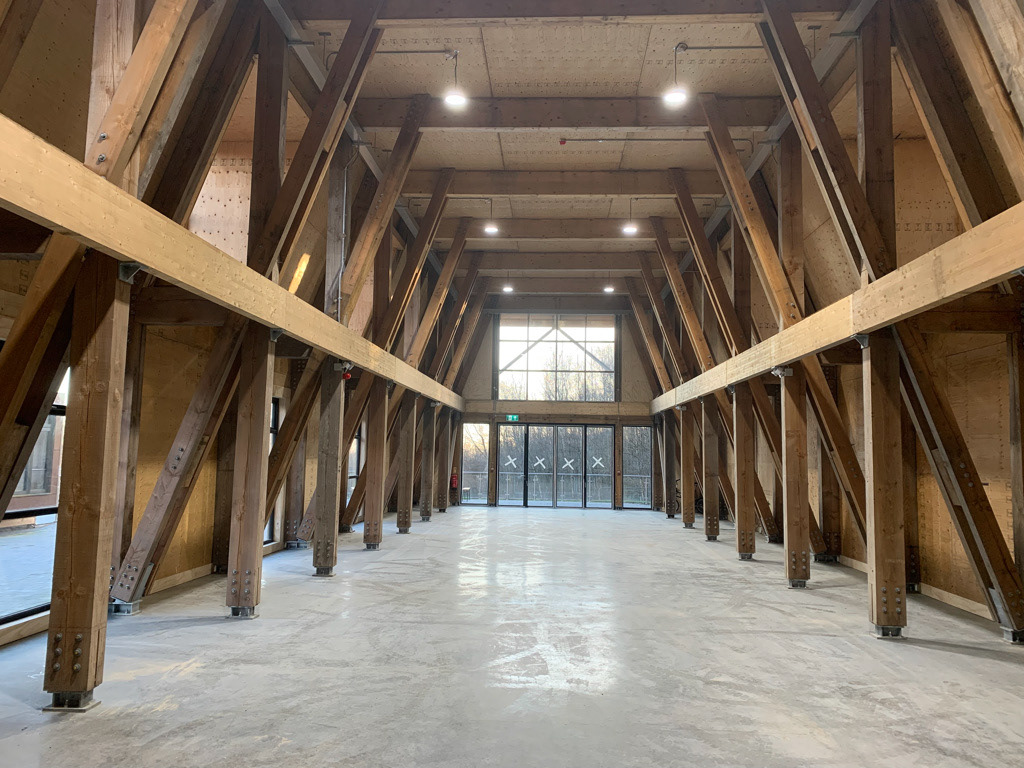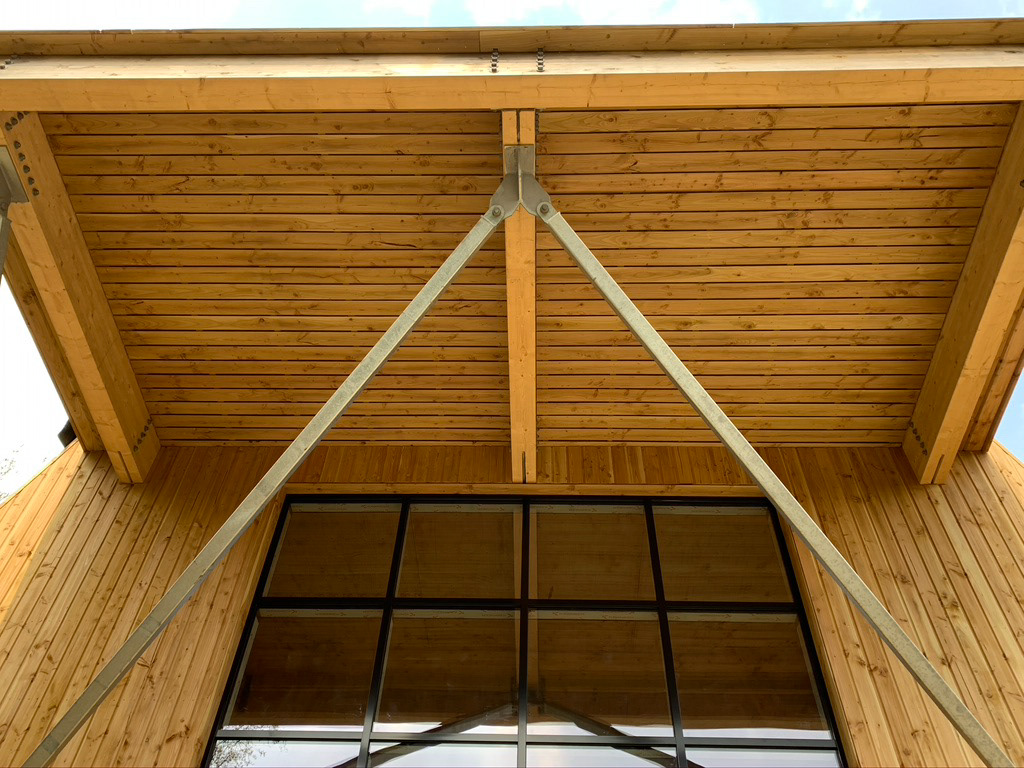 Flimwell Park, East Sussex
Flimwell Park, a pioneering mixed use sustainable woodland development in East Sussex, has been completed
after a decade of consultation, planning and construction. Formerly Flimwell Bird Park, the site located in an AONB in the heart of East Sussex. Along with a core team of foresters, ecologists, perm culturists to repurpose the land, the site has been transformed into an inspiring new model for a sustainable woodland community that blends living, working, recreation and learning.
The site includes a series of eight timber two-storey work spaces built on stilts, a 900 m2 focal building and rooftop greenhouse and adjacent restaurant space all constructed to allow ample natural light as well as excellent viewing of the surrounding woodland. Ten earth-embanked lodges, five houses (two being project-linked) as well as further single-storey workspace are also part of the site. 
Environmental, social and economic sustainability has been at the heart of the construction, with all timber sustainably sourced. Onsite solar power is generated from 300 photovoltaic cells located on building roofs, cladding, and canopies, with a grid of solar thermal units heating water directly from the sun. 
From the outset of the Flimwell Park project, the main aim was to build as much of the project as possible from timber and using locally-sourced timber where appropriate. Ideally, timber would be used for the buildings' superstructures, cladding, and external access decks and stairs.
The design of the project straddled the Brexit referendum and construction commenced months before the Pandemic and eventual lockdowns. With these two colossal events came an unanticipated dramatic rise in the general price of construction materials that affected timber prices especially bad. 
To further complicate things for the use of timber, the tragic Grenfell Tower fire - a non-timber building - and another incident involving a timber balcony fire caused sudden and radical changes to where exposed timber could be used in residential buildings. Strong and sweeping changes in building practices were recommended and those recommendations are still evolving and will likely form the basis of new building regulations.
For Flimwell Park, this resulted in all domestic external balconies and surrounding facades to be made of non-combustible materials. Almost overnight, our designs for timber structures, stairs, decks, and balustrades were replaced with galvanised steel. 
On non-domestic stairs, balconies, and guardrails the decision was made to substitute timber structures and components with galvanised steel to create a visual cohesion across the site. This included, in some cases, external diagonal bracing working with timber posts and beams forming hybrid material structures. At times, when timber orders hadn't been placed prior to the Lockdown, it was quicker to have galvanised steel components made rather than waiting for timber to arrive for time-critical elements.
The result of all of this is a mixed-use woodland-based project becoming an exposition of material choices driven by rapidly changing supply chains, material cost increases, structural and fire engineering, and visual aesthetics. In many cases, the final result was a series of positive surprises of both a functional and a visual nature. 
For example, the shift from solid timber galvanised steel-connected diagonal bracing to all-galvanised steel bracing resulted in far thinner structural members supporting elevated buildings dramatically improving views into and out of the adjacent woodland through the legs of the suspended small workshop buildings. 
Another good example was the dramatic shift of the main accessway for the small workshops - a 60m long bridge - from timber to galvanised steel created a glimmering almost ethereal band running across the main interface between the built and the woodland worlds.
It was known from the start that galvanised steel would feature in the project as a beautiful and durable complimentary material to a rather large amount of timber used across the project. Originally, this was planned for the rainwater goods, made by a company called Lindab. What wasn't anticipated was how, through the course of constructing the project, galvanised steel would play such a major role in making sure that the right material was used in the right places.
Photographs © Martin Zeller